lbc has three main services which are further divided into other subcategories
1)Within the Philippines
2)cash on delivery or cash on pickup
3)from the Philippines
to calculate the estimated amount of lbc shipping rates we have to first finalize which service we have to choose
within the Philippines
now this service is further divided into other categories 
1) cargo charges 
2)documents shipping charges
in cargo you have box and in documents, you have a pouch of different sizes both have different charges so for an estimate first you have to give some compulsory information like origin, destination, size of your box or pouch, weight e.t.c
cash on delivery |cash on pick up delivery charges 2023
to get lbc cop/cod rates follow these simple steps 
select your service
select your box size
origin city
confirm destination city
weight
declared value in PHP
and boom you will get your estimated charges and valuation fee according to the current rates 2023.and as we are already talking about rates you can also check posstore Tracking because there Rates are cheaper than lbc.
lbc international shipping rates
international shipping means shipping from the Philippines to other countries like the Philippines to the USA charges. this shipping is a little bit expensive and you can deliver a max of 100kg. the rate calculation is the same as above I have explained follow that simple steps and you were able to get lbc USA rates 
the shipping cost usually increases with the increase in weight of the parcel so try to don't cover it with heavy tools
lbc padala rates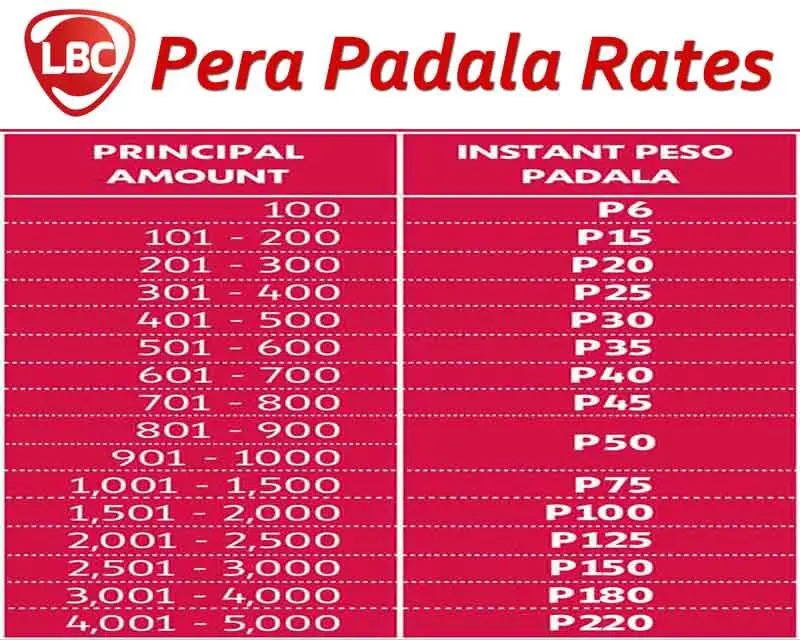 lbc insurance fee
With Kaagapay Insurance, you can rest guaranteed that LBC and Malayan Insurance have brought you and your loved ones covered. You can insure up to P20,000 with LBC's insurance policy for as little as P25.
Filipinos have access to a simple and inclusive insurance policy thanks to LBC and Malayan Insurance.
From just P25, you can get coverage for up to P20,000 for accidental deaths, total and permanent disabilities caused by accidents, and disablement and dismemberment caused by accidents.
In addition to murder and unprovoked assault coverage, this LBC policy provides P5,000 coverage.
If you have an accident or a fire, LBC will provide you with burial assistance.
Visit your local LBC Express branch to apply for Kaagapay Insurance today