LBC Balikbayan Box – Tracking, Rates, Shipping, and more
An LBC balikbayan box is a popular shipping box service offered by LBC Express for sending items from abroad to the Philippines, thanks to LBC's extensive network and reliable and affordable shipping rates.
Here are some key things to know about LBC balikbayan boxes:
It provides a convenient and affordable way for overseas Filipinos (balikbayans) to send packages to relatives in the Philippines.
The boxes come in different sizes – small, medium, large, extra large. Each size has weight and dimension limits.
Customers fill the box with their items, then drop it off at an LBC branch or agent nearest to them.
LBC ships the box via air or sea cargo to one of its branches in the Philippines.
The recipient is notified and can claim the box at their preferred LBC branch by presenting a valid ID.
A door-to-door delivery option is also available for an added fee. LBC will deliver to the recipient's address.
Typical contents include clothes, shoes, food items, toiletries, electronics, etc. There are some prohibited items.
Customs duties may need to be paid by the recipient before the box is released if the total contents value exceeds the exemptions.
LBC balikbayan boxes appeal to Filipinos abroad who want an easy way to send gifts and relief packages to family back home.
LBC Balikbayan box tracking
On our website, go to the Track & Trace page and enter your tracking number. This will show you your box's current status and location with time.
Alternatively, you can call LBC's customer service hotline and provide your tracking number. They can look up the status for you.
Where can I find the Balikbayan box tracking number?
If you used the door-to-door pick-up service, your Balikbayan box tracking number will be on their provided receipt.
For boxes sent from the US, tracking may not update until the box arrives in the Philippines. Tracking is more limited on the US side.
Tip: Be sure to keep your tracking number and receipt safe if you need to reference them later for tracking purposes. Check tracking periodically for updates as your box makes its way to the recipient. Shipping times can vary.
LBC Balikbayan Box size
LBC offers four different size options for their balikbayan boxes to accommodate different shipment needs. Please note that the box sizes discussed below are for non-document purposes (for shipping personal items other than important paperwork/ documents).
Small Balikbayan Box size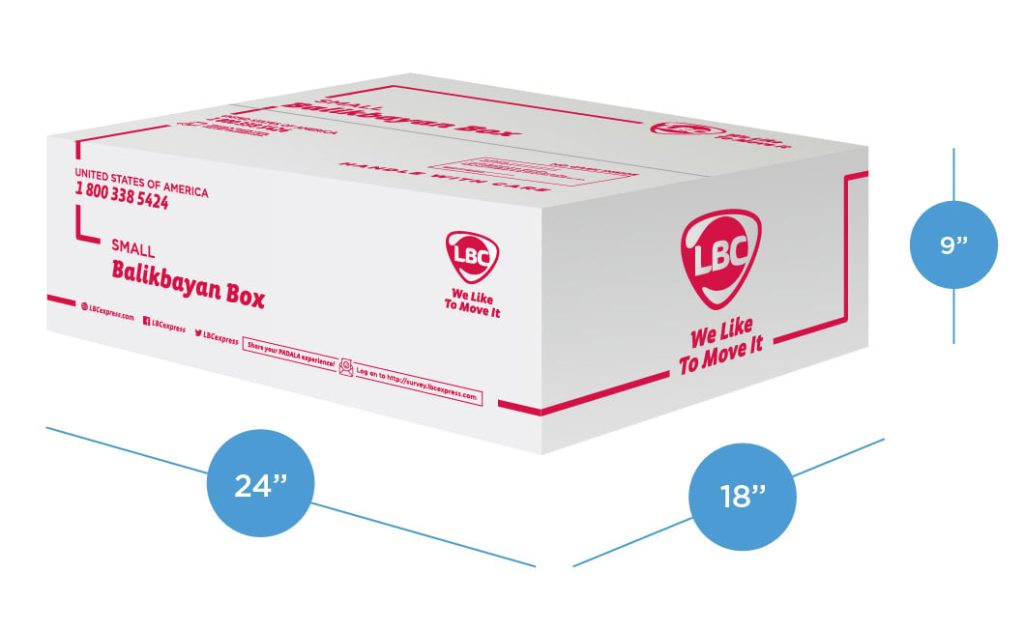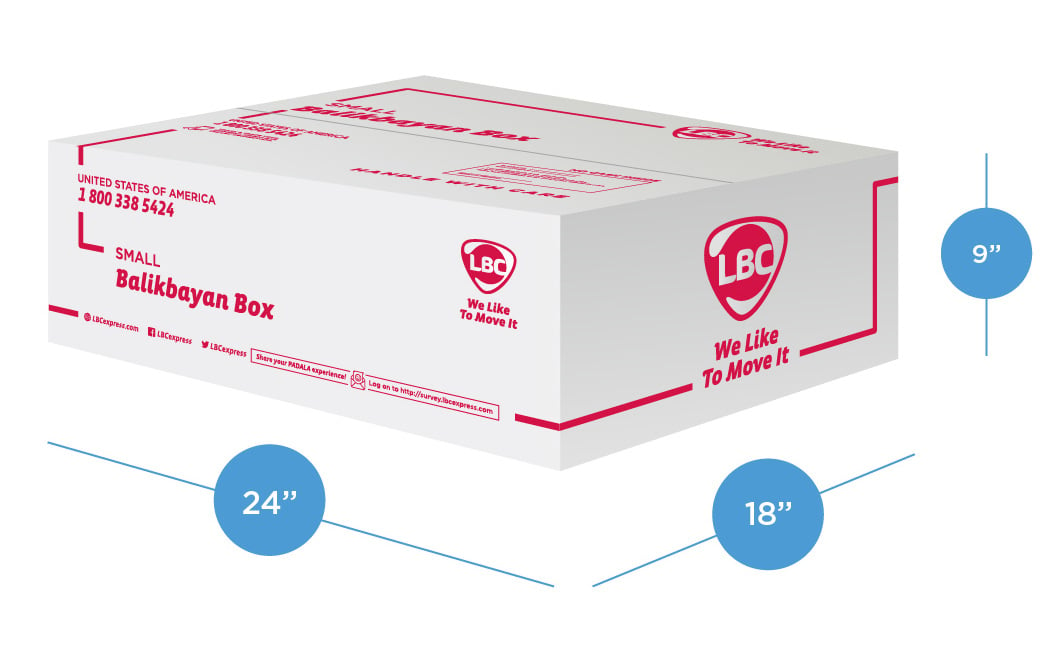 Dimensions: 24 x 18 x 9 inches
Weight Limit: 10 lbs (4.5 kgs)
Large Balikbayan Box size
The large balikbayan box comes in two sizes. One that is 23 x 17 x 20 inches, and one that is slightly larger at 28 x 18 x 17 inches. Down below you can find the dimensions and weight limits for each.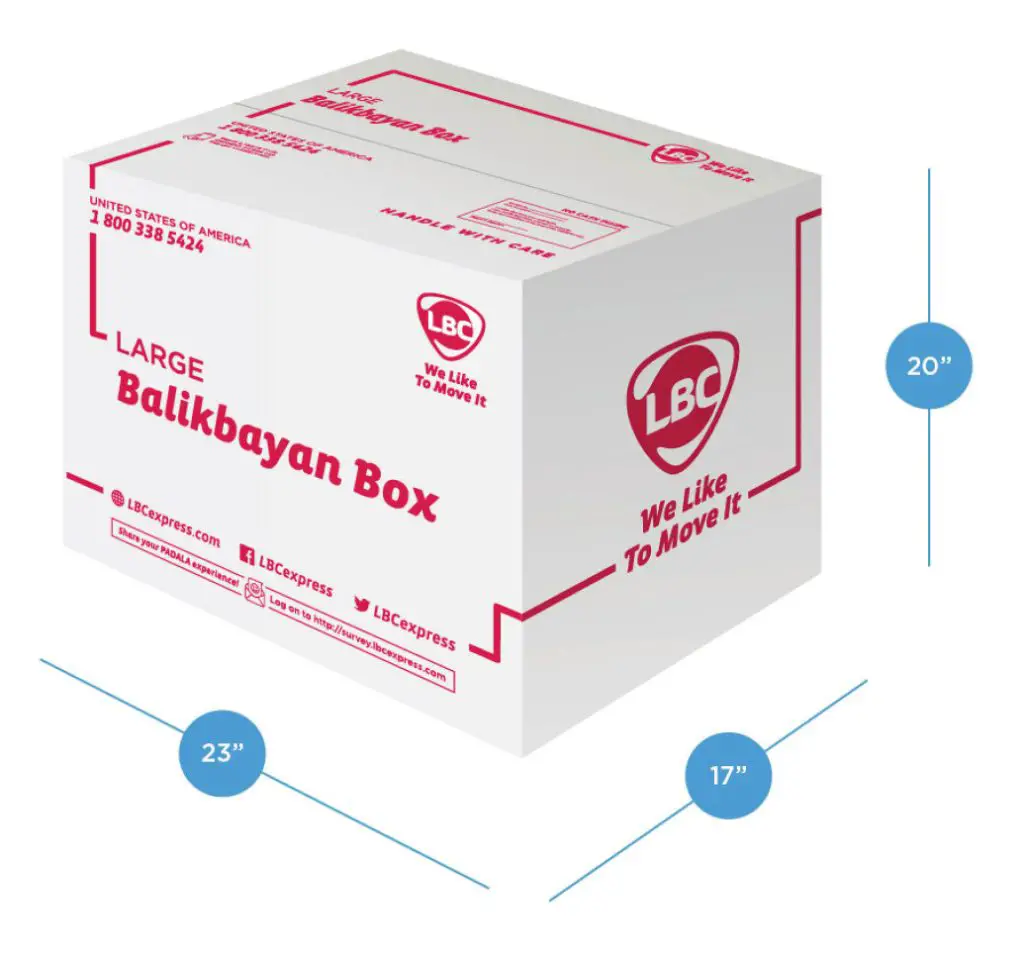 Dimensions: 18 x 13 x 13 inches
Weight Limit: 20 lbs (9 kgs)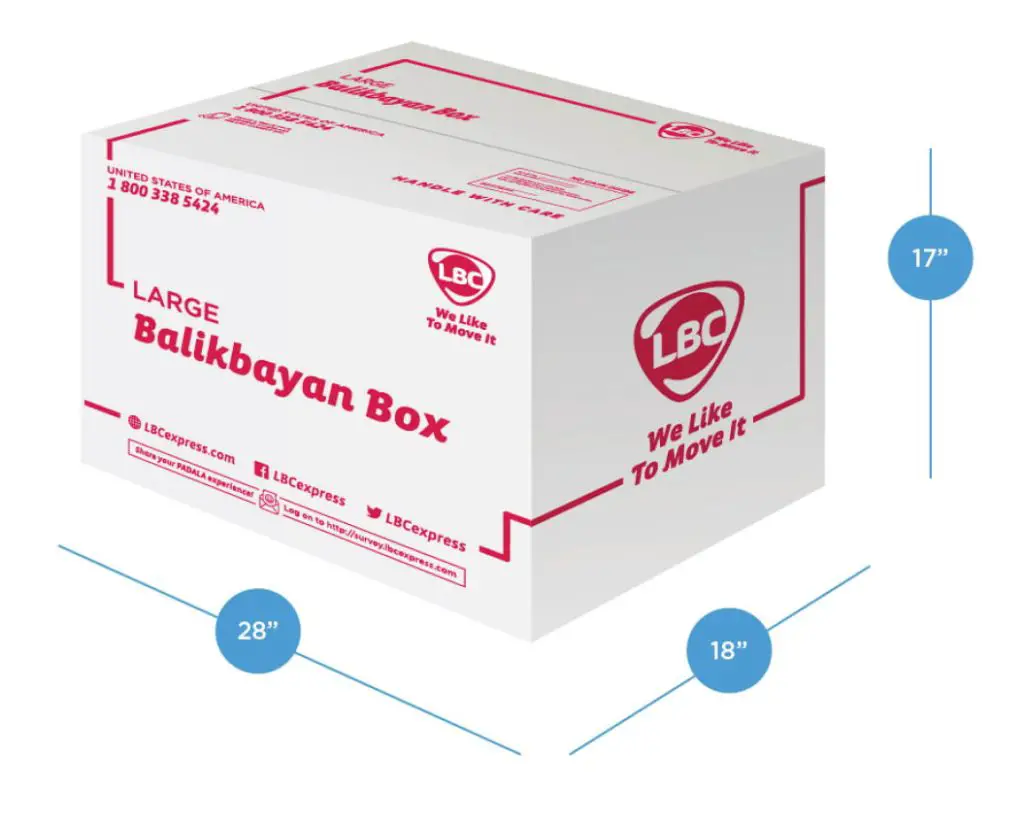 Dimensions: 24 x 18 x 18 inches
Weight Limit: 30 lbs (13.5 kgs)
Extra Large Balikbayan Box size
If you have a lot of things you want to ship that cannot fit in the previous box sizes, the Balikbayan box comes in an extra-large size.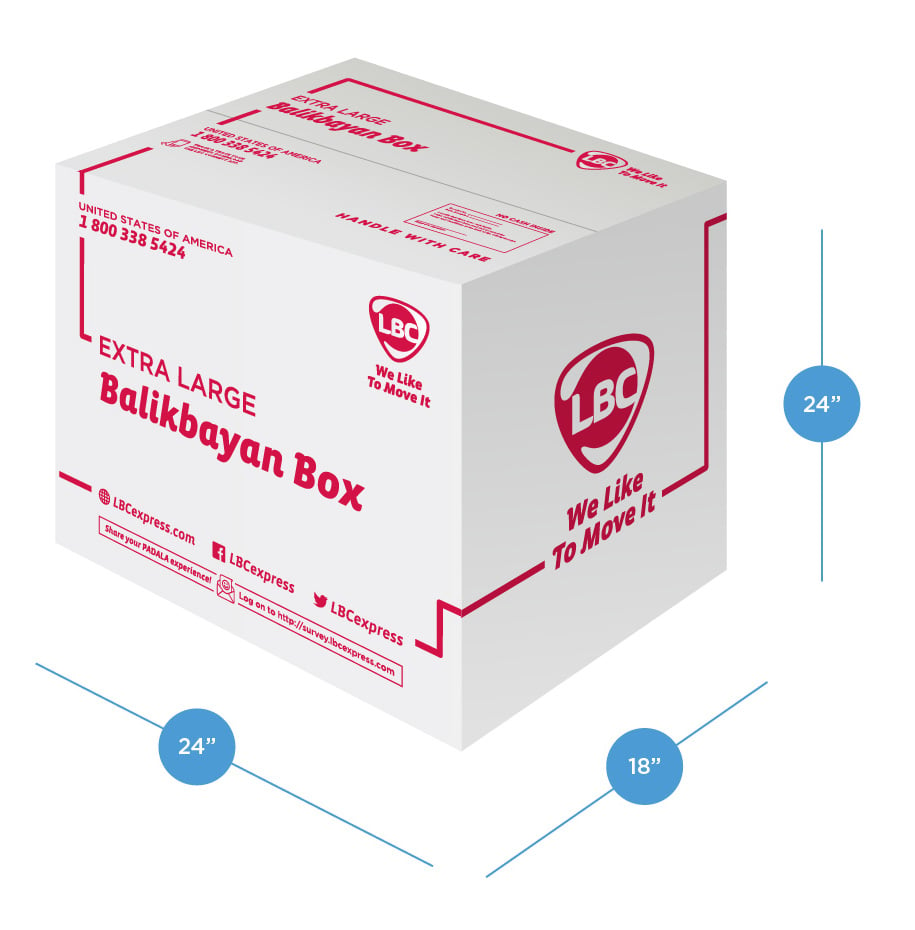 Dimensions: 24 x 24 x 24 inches
Weight Limit: 65 lbs (29.5 kgs)
The small box is good for light items or gifts. The large box types suit most typical shipments. The extra large fits bulky and odd-shaped contents, maximizing the weight limit.
Pro tip: It's important to measure and weigh your items accurately to choose the most suitable size. Oversized or overweight boxes will lead to additional fees. The box dimensions show the maximum interior space available.
LBC Balikbayan box rates
LBC balikbayan box shipping rates can vary depending on factors like:
Box size – larger boxes have higher base rates.
Weight – heavier boxes have higher shipping charges.
Shipping method – air cargo is faster but more expensive than sea cargo.
Destination – rates differ based on end location in the Philippines.
Added services – door-to-door delivery and insurance add to costs.
Here are some sample LBC balikbayan box shipping rates from the USA to the Philippines:
Small (10lbs) – Starts around $45 by sea
Medium (20lbs) – Starts around $60 by sea
Large (30lbs) – Starts around $75 by sea
Extra Large (40lbs) – Starts around $85 by sea
Note: Shipping by air is around 2-3x more expensive than sea cargo. Rates from other countries worldwide may also vary.
Pro tip: Always check LBC's official website for accurate pricing based on your specific shipment requirements. They have a handy rate calculator tool to estimate costs. Rates can fluctuate over time as well.
LBC Liability for Balikbayan boxes
LBC's liability for balikbayan box shipments refers to their responsibilities and coverage for loss, damage, or other issues with a shipment. Here are some key things to know about LBC's liability:
As a common carrier, LBC's basic liability is limited under Philippine law. The maximum basic compensation they will provide for a lost or damaged balikbayan box shipment is PHP 10,000.
It is highly recommended to purchase additional insurance when shipping valuable contents. This enhances coverage up to PHP 200,000. Even higher insurance can also be selected.
LBC's liability policies have exclusions where they are not obligated to provide compensation. This includes prohibited items, inadequate packaging, perishable goods, Acts of God, etc.
For door-to-door shipments, LBC's liability ends once the box is initially delivered to the recipient's address. Issues after that point are the recipient's responsibility.
Claims need to be reported within 48 hours of receipt and are subject to investigation and verification processes before payouts.
Customers must retain receipts and tracking documents to help support claims if needed.
Understanding LBC's liability limitations and purchasing sufficient insurance allows customers to protect against risks and losses appropriately when using the Balikbayan box service.
For more information about Liability Insurance, we recommend checking out this article on Business Insurance Levantam from Insurance Dimes.
For questions regarding Balikbayan boxes
Contact LBC USA customer care at [email protected].
Summary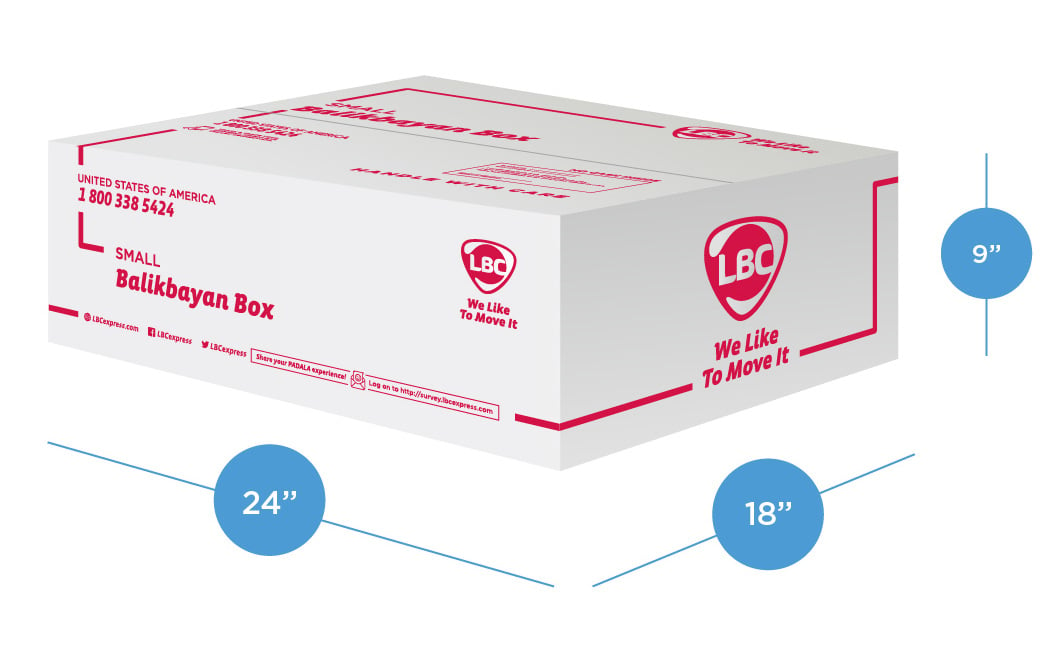 Article Name
LBC Balikbayan Box - Tracking, Rates, Shipping, and more
Description
LBC Express provides Balikbayan boxes for sending items to the Philippines. The Balikbayan boxes have different box sizes and shipping rates
Author
Publisher Name
Publisher Logo