LBC Sakto Pack – Dimensions, Rates, Tracking, and Reviews
Sending packages and documents across the Philippines is a common need, and LBC Express has been a trusted name in logistics and courier services for many years. One of their popular services is the "LBC Sakto Pack," a cost-effective solution for sending small parcels and documents. In this blog, we will provide detailed information about the LBC Sakto Pack, including its pouch size, dimensions, rates, and reviews, to help you make informed decisions when sending your shipments.
What is Sakto Pack?
Sakto Pack is LBC's latest pouch service designed for sending items weighing 500 grams or less. It's the perfect choice for those who need to send small items or documents securely and efficiently.
Pouch Size and Dimensions
The Sakto Pack comes in a pouch with dimensions of approximately 9″ x 7.5″. It's built to accommodate various small items, making it ideal for sending everyday essentials and documents. As long as your items fit comfortably within the pouch and can be sealed properly, you're good to go.
What Can You Send with Sakto Pack?
Sakto Pack is versatile and can carry a wide range of items if they meet the weight and size criteria and do not fall under the list of prohibited items. You can send documents, small gadgets, accessories, and much more. It's a convenient option for personal and business use.
Availability of Sakto Pack
Sakto Pack is exclusively available when you book through the LBC App or LBC's online booking platform at LBCexpress.com. Unfortunately, it's not available for walk-in transactions at LBC branches.
Payment Options for Cash On Delivery (COD) / Cash On Pickup (COP) Transactions
For Cash On Delivery (COD) and Cash On Pickup (COP) transactions, you have the option to use "Branch Collect Remittance" or "Remit To Account (RTA)" for bank accounts, depending on your preference and convenience.
Tracking Your Sakto Pack
LBC makes it easy for you to track your Sakto Pack shipments through various channels:
LBC FB Messenger chatbot
LBC App
You can stay informed about the whereabouts of your package at any time using any of the h
Shipping Rates
The shipping rates for Sakto Pack depend on the origin and destination of your shipment. Here's a breakdown of the rates:
Origin of the Package

Destination of the Package

Estimated Shipping Fee

National Capital Region
(NCR)
NCR

₱

39
Luzon

₱

49
Visayas and Mindanao

₱

69
North Luzon
NCR

₱

49
North Luzon

₱

39
South Luzon

₱

49
Visayas and Mindanao

₱

69
South Luzon
NCR

₱

49
North Luzon

₱

49
South Luzon

₱

39
Visayas and Mindanao

₱

69
Visayas

Intra-Province

₱

39
North Luzon

₱

69
South Luzon

₱

69
Visayas and Mindanao

₱

49
Mindanao
Intra-Province

₱

39
North Luzon

₱

69
South Luzon

₱

69
Visayas and Mindanao

₱

49
LBC Sakto Pack Customer Reviews and Testimonials
Here is an extensive review of the LBC Sakto pack service from a user on X (Twitter). The user highlights the process of booking the pack, verifying the pouch size, shipping, and delivery. They describe it to be a "hassle-free" experience with reasonable rates.
an honest review about LBC (including the n-sakto pack) that no one asked for

— a thread ; pic.twitter.com/QHTar7i0GA

— zee⁷ •᷄ɞ•᷅ (@pjmsilogcart) January 30, 2023
Similarly, here are a few more highlights of the Sakto pack that customers often find:
Reliability: Many customers appreciate the reliability of LBC Express when using the Sakto Pack. They often mention that their packages arrive on time and in good condition.
Affordability: The cost-effectiveness of the Sakto Pack is a significant factor that draws customers to this service. Many reviewers highlight the competitive rates, especially for sending small items.
Convenience: Door-to-door delivery is a convenient feature of the Sakto Pack, and customers often mention how it saves them time and effort.
Tracking: The ability to track packages in real-time is highly valued by customers, as it provides peace of mind and transparency in the shipping process.
It's important to note that individual experiences may vary, and it's always a good idea to check recent reviews and testimonials to gauge the current service quality and customer satisfaction levels.
Frequently Asked Questions
Here are some Frequently Asked Questions for the Sakto pack. Please note that this information is subject to change, and it is always a good idea to check the official sources at LBC Express.
Is it possible to schedule a pick-up on the same day for my Sakto Pack shipment?
Yes, same-day pick-up is available for the Sakto Pack. The cut-off time for NCR is 11 a.m., and the expected delivery timeline within NCR is 1 to 2 days.
Can I combine Sakto Pack with other LBC offers or promotions?
Combining Sakto Pack with other LBC promos is not allowed. It is a standalone service.
If I opt for branch drop-off, where can I obtain empty Sakto Packs?
Empty Sakto Packs are available at various LBC branches for your convenience.
Can I use Sakto Pack to send important documents or high-value items?
Certainly, you can utilize Sakto Pack to send important documents or high-value items. It offers a secure and versatile solution for such shipments.
Conclusion
The LBC Sakto Pack is a valuable service for those looking to send small parcels, documents, or other compact items within the Philippines. With its affordable rates, reliability, and convenience, it has gained the trust of many customers. The pouch size and dimensions are suitable for a wide range of small shipments, making it a versatile choice for individuals and businesses. When considering the LBC Sakto Pack for your shipping needs, always check the latest rates and read customer reviews to ensure that it aligns with your expectations. Overall, LBC Express continues to be a reliable option for domestic shipping services in the Philippines.
Summary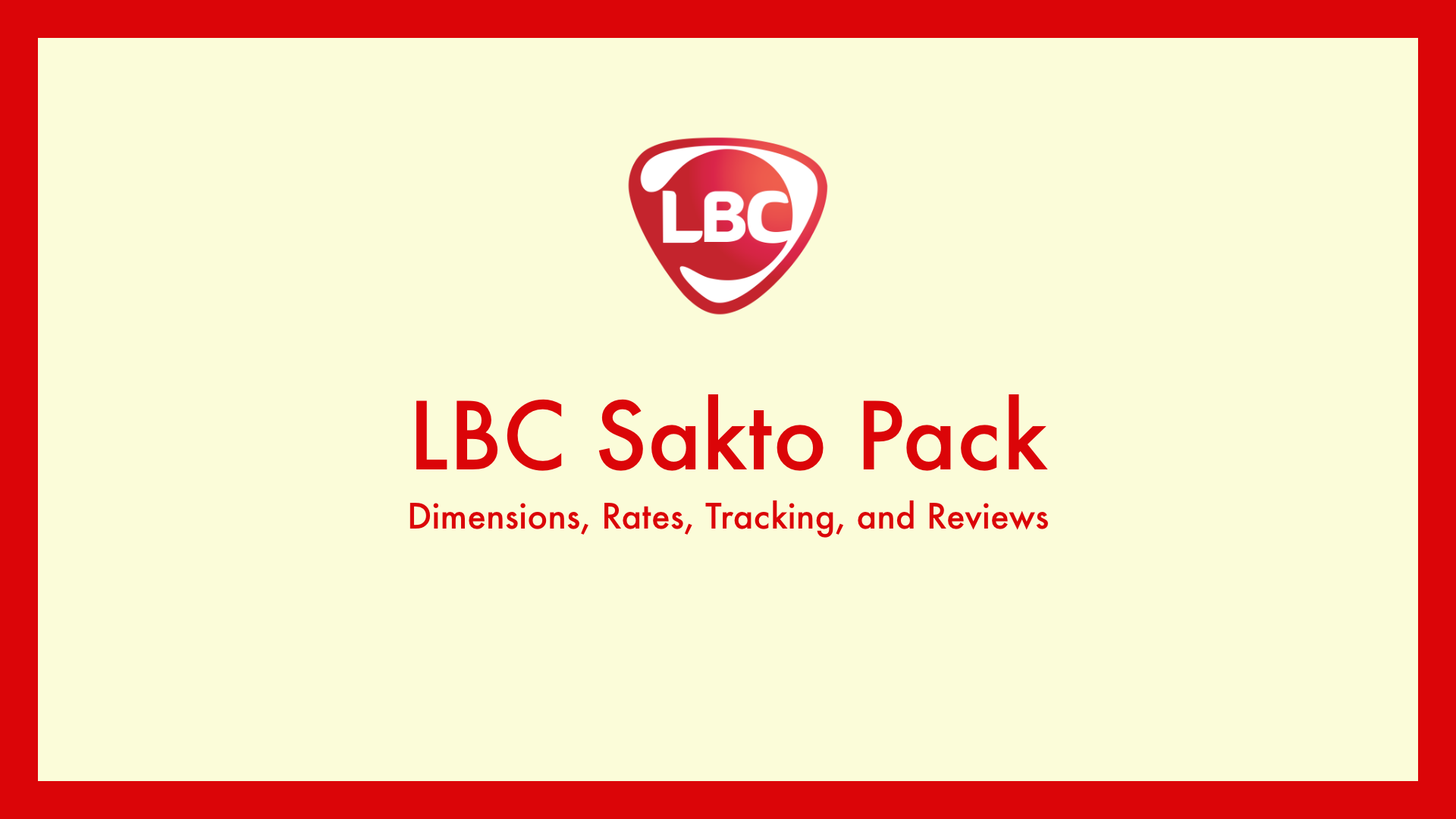 Article Name
Description
In this article we take a look at LBC Express's service to ship small items nationwide in the Philippines at an affordable rate through the Sakto pack.
Author